Stop! Before you spend $20 on a LifeStraw or Sawyer Mini and think you and your family will be all set for a disaster, let me save you some frustration. Let me first start by clarifying that these are both great products especially for the money if you know what you are purchasing. There is a common misunderstanding when it comes to water filters that lead people to believe that they can collect water from any water source, run it through a filter and provide perfectly safe clean drinking water for themselves and their families. This however is not the case for all filters as many will remove particulates, bacteria and waterborne protozoa but not chemicals. Which means these water filters would not be safe to filter water from sources within or around metropolitan areas on a normal day let alone following a disaster such as a flood. This is because most bodies of water around populated areas have large amounts of pollutants caused by water runoff, motorized vehicles leaking, sewage spills, human negligence….etc. Now both of these companies do offer better options that will filter out chemicals but you won't be able to pick them up for $20.
Here are some options of water filters for families and/or large groups that we at Outlast.Today recommend to keep your family healthy. We have done the research for you so you won't end up with the wrong product.
This device uses 2 BB9 black water filter elements which makes it successful is removing particulates, bacteria, waterborne protozoa and chemicals such as herbicides, pesticides, VOC's, organic solvents, radon 222 and trihalomethanes. These filters are even successful in reducing nitrides, nitrates and unhealthy heavy metals and can be equipped with an additional filter to remove fluoride. This extremely effective water filter is powered by gravity and can purify up to 6.5 gallons per hour or can be expanded up to 8 bb9 filters and purify up to 26 gallons per hour. These filters also have a life span of up to 6,000 gallons which makes them perfect for emergency preparedness or homesteading. If the Crown Berkey is too big for you and your family check out some of the more compact options like the Imperial Berkey 4.5 Gallon, Big Berkey 2.25 Gallon, Royal Berkey 3.25 Gallon and the Berkey Light 2.75 Gallon.

Now while one Solar Bag would not be enough to provide for your entire family and you would need to purchase one for each household member and maybe a few extra, the capabilities of this filter are incredible. The Solar Bag uses solar activated technology to remove bacteria, viruses, waterborne protozoa, chemicals and harmful heavy metals. This reusable bag is equipped with a prefilter and a Pur-Blue indicator that lets you know the purification pro
cess is complete eliminating any risk. This filter holds 3 liters and can purify your drinking water in 2-6 hours depending on sun exposure. Powered by the sun with no electricity, chemicals, or pumping, this filter is completely sustainable for 100's of uses.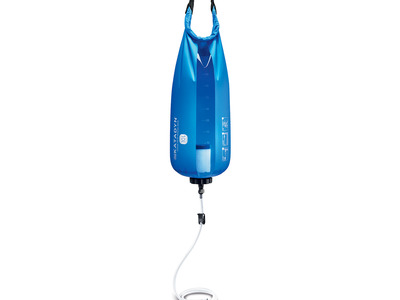 Now while this water filter can only effectively remove particulates, bacteria, viruses, and waterborne protozoa (not chemicals) it is a very effective filter for the price that can filter enough water (up to 1,500 liters) for the whole family. The bag holds 10 liters of water and is gravity powered through a 0.2 micron glass fiber filter. This filter is lightweight, compact and easy to travel with. It has a flow rate of 2 liters per minute so your family will never be playing the waiting game and it can also double as a shower with the Camp Series Shower Adapter. So while this filter is not 100% effective against all harmful agents, it should be considered if you are looking for a camping filter, or if you know you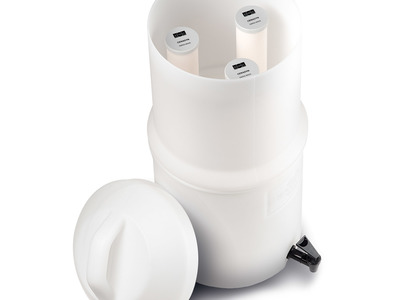 can find chemical free water in an emergency such as a water catchment system. You may also want to check out the Katadyn Ceradyn Drip Gravity Container which is basically a stationary version of the Base Camp Pro that can filter up to 150,000 Liters of water. Both great products for the $$$